Can't-Miss Basement Remodeling Ideas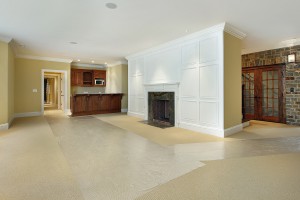 Did you move into a new home without a finished basement, or have been in your current home for some time, but you still haven't gotten around to completing the rooms in your basement? If you answered "no" to either question, it's time to get in gear and do something with this valuable space. Your basement as a lot of potential; you just need to know how to get started. There are a few popular basement remodeling ideas that you'll love in your home.
Mother-in-Law Apartment
It's no secret that completing your basement can increase the value of your home. But if you want some monthly income out of this addition, why not turn it into an apartment. Finish this area with a bedroom or two, along with a bathroom and kitchen, and you could rent out the space to someone looking for something modest. Just make sure you include a separate entry
Home Theater
Who doesn't like to kick back on a Friday or Saturday night and enjoy a movie or favorite TV show? If this is your activity of choice on such occasions, nothing beats a cozy theater room, and the basement is the perfect place to make this happen. Build a suitably sized room with a good sound system, and you've got yourself the ideal place to turn on the big-screen TV. If you're trying to sell your home, this will be an attractive room for prospective buyers.
Game Room
Need a place to send the kids where they can be rowdy? Or, are you looking for ample space to put a pool table? Basement remodeling can make this happen. Create a large open area in your basement and fit it with high-quality carpet and warm colors to put together an inviting space for people to gather.
If you've got a basement remodeling plan in the works, consider these ideas. You'll love they way these will enhance your entire home.